All of Symptometry's self-help books are in large print, written at the 8th-grade reading level, and full of easy to apply tips and tools for proper cell nourishment. Optimal health is within your reach.
ALL BOOKS ARE AVAILABLE ON AMAZON.COM
"This book really opens your mind. It's a very short read. Once I started reading I couldn't stop so I finished it in one sitting! I recommend this book for all!" Mic Owl
"Although many gauge a book by how many pages and how in depth they get, this book is a little gem with information you won't see anywhere else. It's verifiable, science based eating for health, unlike what general nutrition dishes out to the general public.How many know there's cyanide in spinach, or MSG in Kale, or heavy minerals in whole grains? For the information it contains, it's worth twice the price, and has more actual useful information than most 'nutrition' books' contain collectively. You actually have to open your mind and get out of the nutritional box we've been brainwashed into, that have caused many problems that we are confused by because after all, we eat 'healthy'… or do we?" JB4U
"This book is the best book I have ever read. I recommend it to everyone that think we know what to eat. This book has changed my life and my way of thinking and looking at so called healthy food. This is the best gift you can get anyone. Thank you Dr. Maxwell Nartey DHM, NHD." Esther
"Necessary information. Finally, a scientific explanation that is understandable." Keith
"This book is for those who are geared to an higher level of eating to obtain higher nutrient from food for the body and mind." Nikita
A fantastic complement to The Downside of Nutrition, What to Consume details health maintainers, the controversy of medical foods, the 45 essential foods and the most effective diet components for those battling insomnia, autism, hypertension, diabetes and many more of the common health afflictions.
 "Highly recommended. It is a paradigm shift to change how one eats. Food is deeply embedded in our psyche as it relates to comfort and love as well as the memories and family tradition we hold so dear. Who knew family recipes could be the underlying cause of many health ailments (high blood pressure, diabetes, high cholesterol) experienced for generations…" Jasmin
"Am very impressed with the recipe in the book and the result after eating them as well." Nikita
"Best cooking book I ever bought!" William
  This is not your ordinary cookbook. Mouth-watering recipes and simple-yet-scientific cooking methods to ensure proper cell nourishment and disease prevention. This cookbook has over 50 enticing recipes including: snow white delight, crunchy munchies, mashed potatoes done right, baked lamb chops with papaya sauce, delicious desserts, and more!
"The author sets Symptometry apart from allopathic medicine and/or holistic health. Despite your failures or fears in anatomy, Dr. Nartey proves that the "person" and all that accompanies him or her are more important than body parts and names of diseases. I would have given it 5 stars, but the large print and simplified style makes the reader wonder whether something is being intentionally omitted." Keith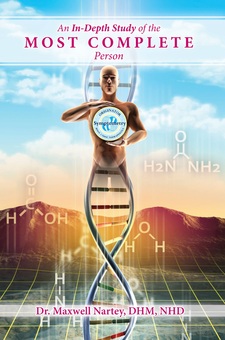 Dr. Nartey's newest publication, An In-Depth Study is part of the coursework in the American School of Symptometry (ASoS). This book simplifies quantum physics and the other 'hard sciences' incorporated into Symptometry to reveal why we fall sick, how to prevent illness, and tools anyone can use to achieve optimal health.
"This book is simple and straight forward, it's an easy read. Very enlightening. I loved it so much that I took classes at The American School of Symptometry where I learned to cook scientifically, the books that I purchased on Symptometry help me at 44 to quickly and effortlessly loose weight after my pregnancy when my 1 year old left me with 80 extra pounds. I know how to eat whatever I want and still lose weight. That's priceless!" Reka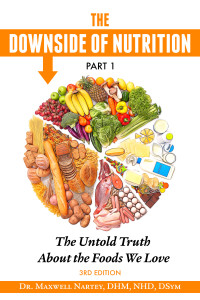 Symptometry's original flagship book addresses the health disruptors & nutrition myths in all major food groups / food addictions. Dr. Nartey also devotes a special chapter to women's health. By drawing attention to the often overlooked health disruptors that many of us didn't realize were hiding in "healthy" foods. Downside empowers us to make proper food choices for disease-free living.